About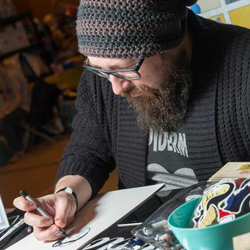 Hello, my name is Ryan Button. I was born and raised in a little city called Leicester, UK in 1982.
I studied and graduated with a B.A. degree in Multimedia Design from De Montfort University, Leicester, UK.
I do enjoy illustrating in various styles and working alongside various companies within the music, movie and gaming industries.
I'm always trying new ways of being creative with such digital programs as Photoshop, Painter, Illustrator and Art Rage, where work in progress and experiments can be found on my Facebook page or Tumblr account.
For commission details, please contact me on the Contact page.
Creative Work History
BULB STUDIOS
Sony Playstation, Motorstorm Apocalypse: Created illustrations where players can use the artwork to customize their racing vehicles for online multiplayer gaming. After the release of the game in March 2011, I produced several more illustrations for the game's DLCs that were released later on in 2011, many of the illustrations were used to promote the content on the Playstation Store.
BRANDS2LIFE
Epson, Facebook Game tabs: Producing illustrations to accompany an Epson Facebook promotion for their series of hi end projectors. Fans of Epson could download the illustrations to use as their cover photos in order to be in a chance of winning Epson products.
SEVEN/FIVE PRODUCTIONS
The Fort (film): Storyboards for film's script as well as producing all of the film's promotional material. The work produced helped gather interest in the production of the film and additional financing for completing the movie.
SANXION DIGITAL
Crazy Comets and Tap Track Heroes: Gaming apps for iOS and Android devices. Produced characters, animation and backgrounds to both titles.
MEDIAOLA LTD
Produced storyboards and promotional artwork that was used to submit to various television companies.
TITAN MAGAZINES
Transformers, Comic: Providing colour flats for two stories of issues five and ten and full colours for issues 11 which went on sale at selected newsagents.
THE HOBBIT GAMERS
Character designs: Illustrative content for the video game's website.
HIVE FILMS
Untitled film, Storyboarding: Four concepts to illustrate key scenes in the film's story.
THE URBAN ALCHEMIST
Character design: Producing a series of designs for the company's main character for promotional use.
THE MONOGRAPH
Illustrative short story: Producing a series of illustrations for various magazine articles which were made avaliable at music venues.
Others
Work featured in Teen Spirit Magazine Issue 02 and also featured on Creative Boom

Exhibited with the Hero of Switzerland collective in London at Lomography and the VZ Gallery in Shoreditch.
Co-founder of the Leicester illustration group where we have exhibited at the Crumblin' Cookie.
COMMISSION PRICES
prices A4sized paper
Head: B&W – 40 GBP; colour – +20 GBP coloured cel shaded or painted
Torso: B&W – 60 GBP; colour – +20 GBP coloured cel shaded or painted
A3 sized paper
Torso: B&W – 50 GBP; colour +50 GBP coloured cel shaded or painted
Full Body Character: B&W – 100 GBP; +50 GBP additional character +50 coloured cel shaded or painted
Comic pages Pencils: 100 GBP Inks: 150 GBP Colours: 250 GBP
Logos – please email for further details